---
Latest news
(Updated 02-06-2019 )
De Beste Zangers van Nederland
Maria is very happy to be part of the Dutch TV Program ´De Beste Zangers van Nederland´, a music program where singers from different styles and genres sing songs for each other, to learn more about each other and each other´s art.
More info (dutch)
Komische Oper Berlin
Maria will be starting her third season as a member of the Komische Oper Berlin. Her two premieres of this season are;
Korngold´s Die Tote Stadt, directed by Robert Carsen and conducted by the Komische Oper´s new Gernal Music Director Ainars Rubikis. Maria will be singing the role of Brigitta.
Bernstein´s Candide, directed by Barrie Kosky and conducted by Jordan de Souza, where Maria will be seen as Paquette.
To go into the Unknown

Maria´s first solo album "To go into the unknown", together with pianist Peter Nilsson has officially been released by the new record label 7Mountain Records.
Klassik begeistert
"Maria Fiselier gibt eine treusorgende Haushälterin Brigitta, die mit einer sauber geführten Alt-Stimme überzeugen kann"
 Operatraveller
"Maria Fiselier coped most admirably with the role's extreme tessitura, soaring easily in the higher reaches of the part."  
About the role of Brigitta in Korngold's Die Tote Stadt at the Komische Oper (October 2018)
---
"Maria Fiselier maakte grootse indruk met haar donker glanzende alt."

NRC Handelsblad, about the Mozart Requiem with "Het Residentie Orkest" conducted by Jan Willem deVriend (February 2017).
---
"C'est Maria Fiselier qui l'interprète très juste dans son jeu à travers la salle et la scène et ancrée vocalement dans ses graves"
Ôlyrix, about the role of Emmy Perth in Marschner's Der Vampyr at the Grand Theâtre de Genève (November 2016).
---
---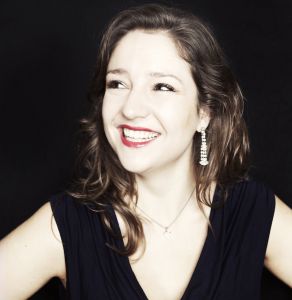 Welcome!

Thank you so much for visiting my website!
I am Maria Fiselier. A generally happy, optimistic and passionate person. I am a classically trained singer, mostly working in the classical and operatic field. However, there are so many more artforms, styles of music and ways to put your creativity into the world, and I am lucky enough to be given the opportunity to explore those as well! The goal in my career has always been to reach people, show people the wonder that is music, and by doing so, connecting them to each other. Because love for music and the feelings that music can create is something we share universally.
Please feel free to have a look around on my website and learn more about me and my career. You are also more than welcome to get in touch with me through Facebook, Instagram or one of my managements.
Welkom!
Heel erg bedankt voor het bezoeken van mijn website!
Ik ben Maria Fiselier, doorgaans vrolijk, optimistisch en gepassioneerd. Ik ben een klassiek geschoolde zangeres en werk voornamelijk in het klassieke muziek - en opera veld. Er zijn echter zoveel andere kunstvormen, muziekstijlen en manieren om creativiteit de wereld in te helpen en ik heb het geluk om daar ook mee bezig te mogen zijn! Het doel van mijn carrière is altijd geweest om mensen te bereiken, de wonderen van muziek te laten zien en ze daardoor verbinden met elkaar. De liefde voor muziek en de gevoelens die muziek kan creëren zijn namelijk universeel en delen we allemaal.
Voel je vrij om even rond te kijken op mijn website, om meer over mij en mijn carrière te weten te komen. Ook kun je me een berichtje sturen via Facebook, Instagram of één van mijn managements.
---
Maria is being represented by